Anatol Stefanowitsch at Bremer Sprachblog takes another look at a classic xkcd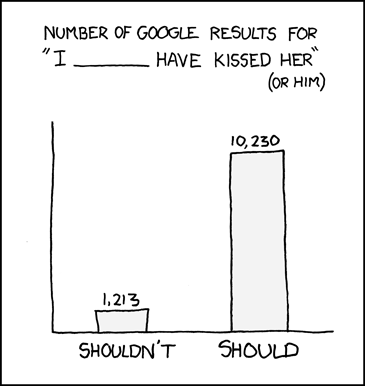 (pop-up: And nothing for I'm glad I saw 'Epic Movie')
AS:
I
ch bin ja ein erklärter XKCD-Fan, aber ich finde, dass er in diesem Fall durch die Zusammenfassung der Ergebnisse für
him
und
her
eine Chance vertan hat, detaillierteres Wissen über die menschliche Natur herauszufinden.
(I'm an avowed xkcd fan, but I think in this case, by amalgamating the results for
him
and
her
, he lost a chance to bring to light a more detailed knowledge of human nature.)
AS makes good this important omission, first by running searches in English according to gender:
(pop-up: Tu es oder tu es nicht, du wirst beide bereuen (Sören Kierkegaard) [do it or don't do it, you'll regret both])
and THEN by running searches for
Ich hätte ihn/sie (nicht) küssen sollen



(pop-up: Das einzige, was ich bereue, ist das ich nicht jemand anders bin (Woody Allen) [the only think I regret is that I'm not somebody else])
Stefanowitsch has revealed several striking disparities between the anglophone and germanophone worlds of sexual regret - or, at least, disparities between the pools of regretful English and German speakers who feel called upon to share their disappointment on the WWW. (Perhaps English-speaking men are likelier than both English-speaking women and German-speaking men AND women to have no alternative to the kindness of strangers.)
There's a lesson to be learnt.
The lesson, of course, is that Randall Monroe and Antaol Stefanowitsch should collaborate on a T-shirt. Guys.
Guys
. You know it makes sense.
(Bremer Sprachblog, as so often, brings to mind the possibly apocryphal British headline: Fog in Channel: Continent cut off. In this case, it's the non-German-speaking world that's cut off from this consistently excellent blog; if you know any German at all, check out the rest
here
.)